Mobile Web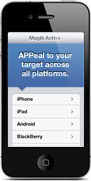 Mobile Web
According to the latest research, mobile Web browsing will surpass computer browsing in as little as five years. And as mobile Web traffic increases, so does the need for marketers to have access to developers with the Magik touch for creating rich browsing experiences on mobile devices.
Magik Active creates new and engaging mobile applications utilising standard web technologies that help successful brands become and remain relevant in the digital marketplace.
If you are searching for the right idea or need someone to help you capitalise fully on your existing brand, then come to Magik Apps for mobile applications that will stand up for who you are and stand out from everyone else. Our riveting mobile app designs ensure that customers won't miss what you have to say or sell.
Magik Apps developers create mesmerizing mobile applications for:
Business
Finance
Games
Entertainment
Social Networking
Music
Utilities
Productivity
Lifestyle
Reference

Travel
Navigation
Sports
News
Healthcare & Fitness
Medical
Education
Weather
Books
Photography