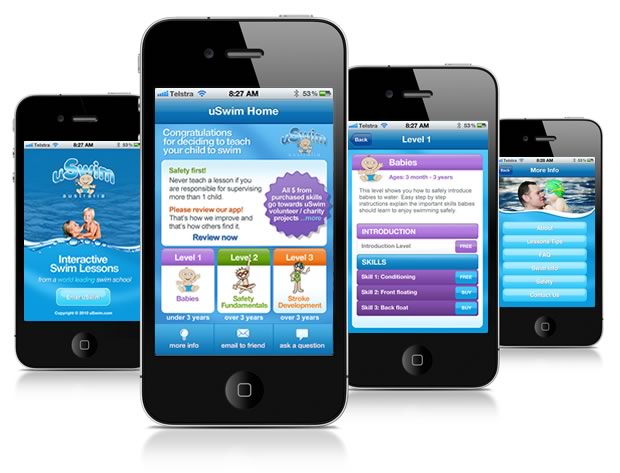 Australia's premier swim school, Aquatic Achievers, with the assistance of Magik New Media, has been able to make a big splash in the iPhone market.
uSwim is a world-leading 'learn to swim' application educating you on how to teach children of all ages to swim with pay-per-lesson tutorials. Anyone can learn to give great lessons by watching professional, step-by-step videos and easy-to-follow lesson plans. Conduct your very own interactive lessons in the pool!


uSwim has multiple levels, catering for different age groups, starting at children from 4 months to 3 years, focusing on safety first and then stroke development, it is the perfect tool for parents wanting to follow up on swimming lessons or assist in teaching their children.
uSwim has 3 separate levels:
l. Babies: - Children from 4 months to 3 years
2. Safety Fundamentals: – Children over 3 years,
3. Stroke Development: – Children over 3 years who have completed level 2.
CredentialsThe uSwim program is adapted from Australia's premier Swim School - Aquatic Achievers, who deliver over 400,000 lessons per year and have been at the forefront of children's aquatic education for the past 40 years.
The uSwim app is free to download, we also then give free introduction videos and also the first skill in each level is free. After that you pay $0.99 for each skill as an in-app purchase.